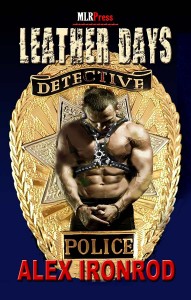 The tradition continues! Once again Alex Ironrod offers the premiere reading of his latest BDSM mystery at Gear Leather & Fetish as a salute to Palm Springs' Leather Pride and Gay Pride Weekends. This year, the free in-store event will be at 6 pm on Wednesday, November 6. After the reading, Alex will chat with the audience and sign copies of his books. (Books will also be for sale. Please bring cash!)
LEATHER DAYS is Alex's second novel involving two young LAPD homicide detectives – Mark Farrell and Dan Fortunato. They are both professional police partners and private gay men trying to sort out their complicated personal BDSM relationship.
This time a gay body-builder is found dead – naked, roped and raped in his LA apartment. Is it an accident, suicide or murder?
In the fast world of television stars, high-priced lawyers and sadistic wealthy businessmen, the two detectives try to solve the vicious sex murder involving some of their old enemies in Group7 while facing challenges to their own evolving leather relationship. But their efforts are checked at every stage by the unknown killer, while a leather-sex weekend in New York comes at a high price.
Can Mark and Dan track down the murderous kingpin? What price must they be prepared to pay to find the answers to their case and also to their own desires?
Join us for a clue or two, plus lots of fun and fellowship!
November DFA Book Club
This event replaces the November Meeting of the DFA Book Club. Regular meetings will resume in December.