This calendar lists all of DFA's events, plus some other major goings on that are likely to be of interest to DFA members.
How to Use the Calendar
Click on an event to open a box that provides additional details, as well as a map (when available). Click the box's 'more details' link to learn yet more and activate any links in the event's description.
Got your own Google Calendar? Click on an event's 'copy to my calendar link' to add the event to it! Or click the + Google Calendar button at the bottom right corner to add the entire calendar to your own.
Want a different calendar view? Click the 'week' tab to show only this week's activities. Or click the 'agenda' tab to view a list of all of the upcoming events instead.
Want a hard copy of any of the calendar views? Just click the 'print' icon next to the tabs.
Add the calendar to your MAC or PC
If you use a program that can access an iCal feed, such Apple's Calendar program for the Mac or Outlook for the PC, you can subscribe to our calendar! Click here to download the feed, then follow these instructions:
On a Mac, click the file you've downloaded, which will open this box: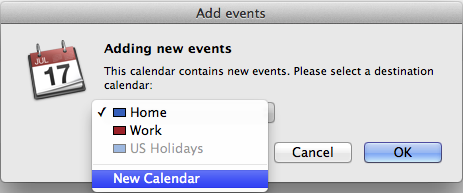 Choose 'New Calendar' and then 'OK.'
On a PC running Outlook, this box will open: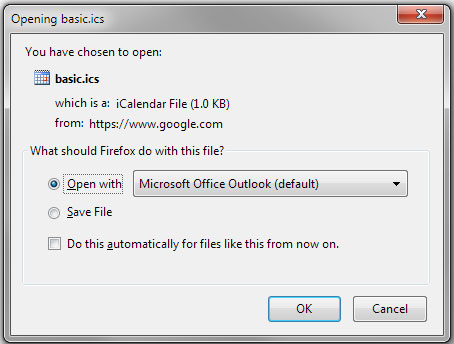 Click 'Open with Microsoft Office Outlook' and then 'OK.'
Now the DFA Calendar will appear in the list of calendars on your computer! Note: If you're running Windows 8, this procedure no longer works because Google and Microsoft are fighting. Sorry about that!
Subscribe to the Calendar Via RSS
If you use an RSS reader to keep up with your favorite news, you can subscribe to the calendar's events feed and get notified every time something is added. Just click here.