After a summer hiatus the DFA Book Club zooms back to life with a special event, open to everyone, at Gear Leather & Fetish on Wednesday November 5 at 6pm.
Last year Alex Ironrod read excerpts from LEATHER DAYS, his second novel involving LAPD homicide detectives and partners Mark Farrell and Dan Fortunato in a gay BDSM murder mystery set in LA and New York. This November, he'll be whetting your appetite again for mystery and hot sex with his latest book.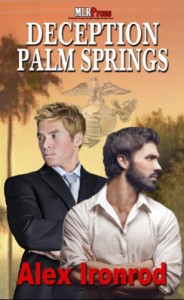 DECEPTION – PALM SPRINGS is the first in a new series taking Mark and Dan into a new life together as private investigators in the Palm Springs area.
Comfortable in their professional roles, which have Mark as the lead detective/investigator and Dan as the junior, they continue to explore the reverse in private, where Dan is the dominant Leather Master and Mark is the submissive boy in their BDSM lifestyle. It may confuse their friends, but not the two men themselves.
With their very first case, as PS private eyes, they discover that deception takes many forms, especially when man-sex is involved.
Mark is hired to locate a US Marine who comes back into his gay father's life after twenty-two years of enforced absence and stirs unexpected passions before disappearing again. Just who is the real Donald Bates and what's his game? From gay Palm Springs mansions to Kansas City's leather bars Mark uncovers some surprising and some shocking answers.
Meanwhile Dan's been following a well-known Palm Springs architect, a husband who's alleged to be unfaithful – but is it with a woman or a man?
Deception can lead you into sexual, wonderful, strange and dangerous places.
Come join your DFA friends or make some new ones in a lively hour or so of horny fiction, questions and answers and, yes, Alex will sign copies. (Please bring cash if you'd like to buy some books.) Help keep Palm Springs' Leather Pride weekend extended for a few more days!
Want to Lend a hand with the Book Club?
Alex is looking for a co-facilitator! Please email him at [email protected].