Alex Ironrod and his kinky detectives are back for a special DFA members reading at Gear Leather & Fetish on Wednesday, November 4 at 6pm – midway between Leather Pride and Gay Pride. Join him as he reads from his newest book, Leather Nights.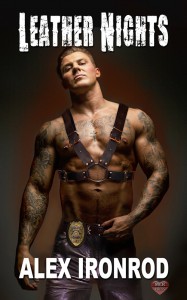 Kink. Cops. Detectives. Murder in Los Angeles of a former porn star. More leather that you can strip from a stockyard, and enough spunk to coat a condominium. Fast cars and expensive bikes. A privately run underground sex-slave auction.
When two members of the LAPD find themselves drawn into in a deadly and sadistic undercover crime ring, they may find themselves in deeper than they could have imagined. Will Detective Mark and new partner Dan survive this case to develop their own newfound BDSM sexual relationship? And which will be Dominant and which submissive?
Leather author Alex Ironrod (Leather Days, Deception–Palm Springs and Cages–Cathedral City) again fills his pages with murder, intrigue, and hot kinky sex. Leather Nights is one hot, sticky crime thriller.
Come join your DFA friends or make some new ones in a lively hour or so of horny fiction and questions and answers. Alex will sign copies. (Please bring cash if you'd like to buy some books.) Help keep Palm Springs' Leather Pride weekend extended for a few more days!