FRIDAY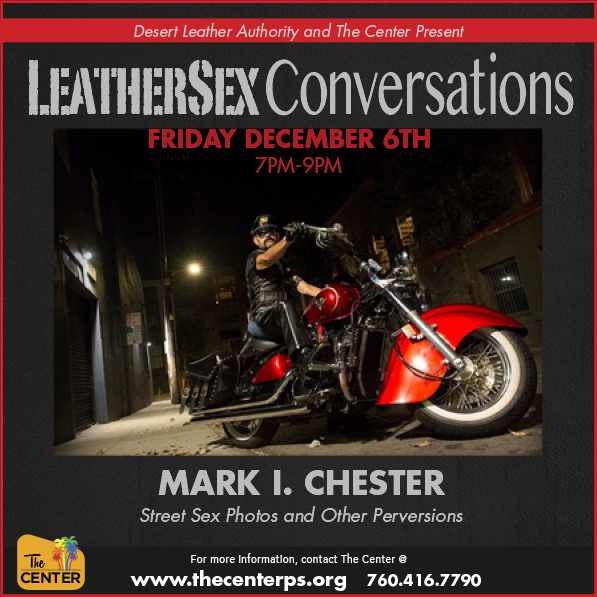 LeatherSex Conversations: Mark I. Chester
On the first Friday of every month, we will bring you provocative, inspiring, and insightful speakers on the topic of LeatherSex. Next up: Mark I. Chester - Street Sex Photos and Other Perversions.


LeatherSex Conversations welcomes Mark I. Chester's "Street Sex Photos and Other Perversions", 40+ years of images from San Francisco's gay radical sex underground.


His work is politically provocative, artistically taboo and socially conscious. In documenting his life, Mark has also documented these tumultuous times in San Francisco giving a glimpse of the people and times that we have lived through. One focus of this presentation will be Mark's new project, Street Sex Photos which documents gay men being sexual on the streets of South of Market in San Francisco.


It is both a love letter to the past and a hope and dream for the future. South of Market has been changing for decades, but right now it is changing at an exponential rate. These aren't cookie cutter men - they are sexual, outrageous and full of desire; men who still believe that sex is an essential and important part of what it means to be gay.


DECEMBER 14
MASTER EB'S SPIRIT is an original play by Ty Dehner, set in the Gay leather community of today. In this play Master Eb is visited by three Spirits on Christmas Eve in this modern styling of Dickens' "Christmas Carol." This will be a staged reading which is a theatre experience without sets or full costumes, with some stage action described. The actors retain their scripts, which they have studied and rehearsed with, as they move around and interact with one another. They make full use of their imaginations to bring the play to life. So, we invite the members of the audience to use their imaginations in return. For more information click HERE.


Archives | Coming Soon
Miss a newsletter? You can always check our archive page to see what's been mailed in the past. And if you're looking for a quick way to see what's coming up, visit our calendar!