FRIDAY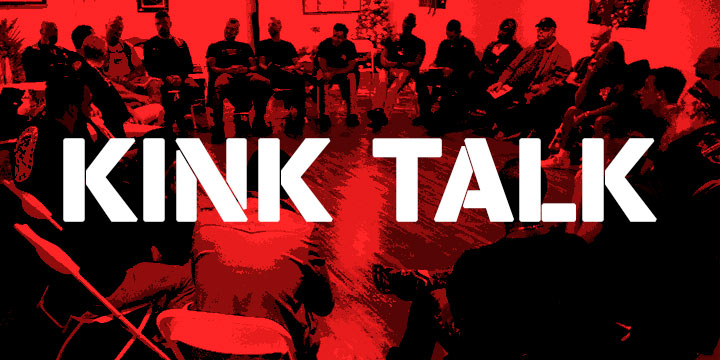 This week our discussion group, Kink Talk, returns. We meet from 7:00-8:30 pm in the Webster Room at The Barracks on each second Friday of the month--which is this Friday, November 8.


Learn more about Kink Talk here.


Join us Friday for great conversation (and a little learning too)!


SATURDAY
Whips at the Barracks
Join members of the Palm Springs Bondage Club for an afternoon of exploring the world of singletail whips. No experience necessary!


NOVEMBER 16 - AUDITIONS!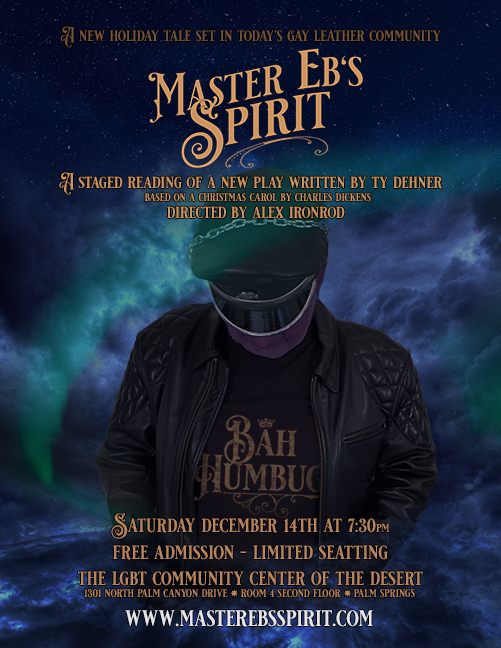 Holiday Reading Casting Call!
About Master Eb's Spirit
MASTER EB'S SPIRIT is an original play by ty dehner, set in the Gay leather community of today. In this play Master Eb is visited by three Spirits on Christmas Eve in this modern styling of Dickens' "Christmas Carol." The first Spirit presents him with a younger self already looking for perfection in everything from his choice of a slave to the leather he wears. The second Spirit shows Master Eb how his present selfish lifestyle is driving other men and boys away from him. The last Spirit points out a future that promises to be increasingly dark and lonely. Eb needs to change and to look for the true spirit of a Leather Master within himself. But can he begin to make this change after just one night?


MASTER EB'S SPIRIT also brings new and kinky life to such men as Bob Cratchit, Jacob Marley, Mr. Fezziwig and Tiny Tim. Yet they still retain some of Dickens' character traits. These are some of the pleasures of this new and fascinating drama. "God bless us all, SIR."


This will be a staged reading which is a theatre experience without sets or full costumes, with some stage action described. The actors retain their scripts, which they have studied and rehearsed with, as they move around and interact with one another. They make full use of their imaginations to bring the play to life. So, we invite the members of the audience to use their imaginations in return.


Auditions
The producers of Master Eb's Spirit are holding AUDITIONS for all 10 male acting roles, open to all ages from early 20s to early 60s and for back-stage positions on SATURDAY, NOVEMBER 16 from 9:30 to 3:00 in ROOM 4 at The LGBT Community Center of the Desert, 1302 N. Palm Canyon Drive. Palm Springs. No matter your acting experience they encourage you to come and be apart of this unique holiday reading.


Archives | Coming Soon
Miss a newsletter? You can always check our archive page to see what's been mailed in the past. And if you're looking for a quick way to see what's coming up, visit our calendar!